Dirty Gaia Grows
Edible gardening is a key step toward personal and community resilience. Dirty Gaia's Backyard to Table initiative supports gardeners growing food and pollinator gardens, whether in pots or plots. Our low-to-no-till approach utilizes nutrient-rich soil, smart watering, and companion planting to maximize abundance. We advise on plants and planting sites, different style garden beds, healthy dirt, attracting pollinators and garden maintenance. Growing, sharing, and enjoying the food you raise never gets old.
Raised beds
Raised beds are ideal for anyone with a rocky site, mobility issues, or crappy soil not worth amending. The Backyard to Table team will advise on siting and recommend the materials needed to construct your bed—whether you want to build from scratch or order a kit. We'll recommend a soil blend and if you're not sure what to plant, we can help guide those decisions, too. You just add the water and enjoy the harvest.
No-Till Layered Cardboard Bed
Sometimes called a lasagna garden, this type of bed layers sun-blocking material (we're partial to recycled cardboard), with topsoil and compost to create a garden on top of weeds or grass—without having to dig them out. Seeds and plants can go right into the nutritious mix. Eventually the cardboard will decompose and combine with the smothered grass and weeds giving, forming a rich and organic soil amendment.
Straw Bales
Straw bales are another great solution for sites with poor—or no—soil. You can sow or plant directly into the bales. Extra bonus: No need for digging or weeding.  Bales are convenient for those with limited mobility. Pull up a chair and you'll be at just the right height for pruning and communing.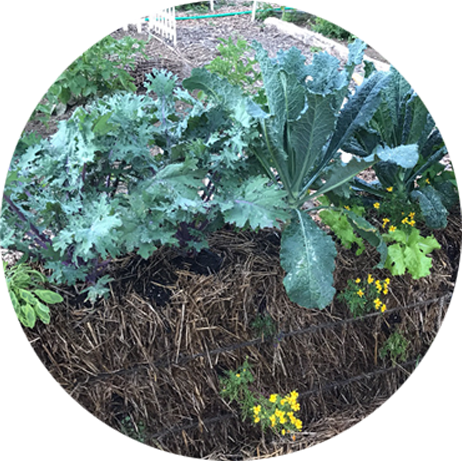 Containers
We get it. Not everyone has a rolling lawn awaiting conversion or any other sizeable planting stretch. But most of us have room for a pot or two, maybe on a sunny porch or light-facing sill. We'll suggest plants whose roots enjoy the snug surrounding of containers and tell you how to keep them happy and productive.